CAT-SITTERS IN PRAGUE:
Katerina – cat-sitter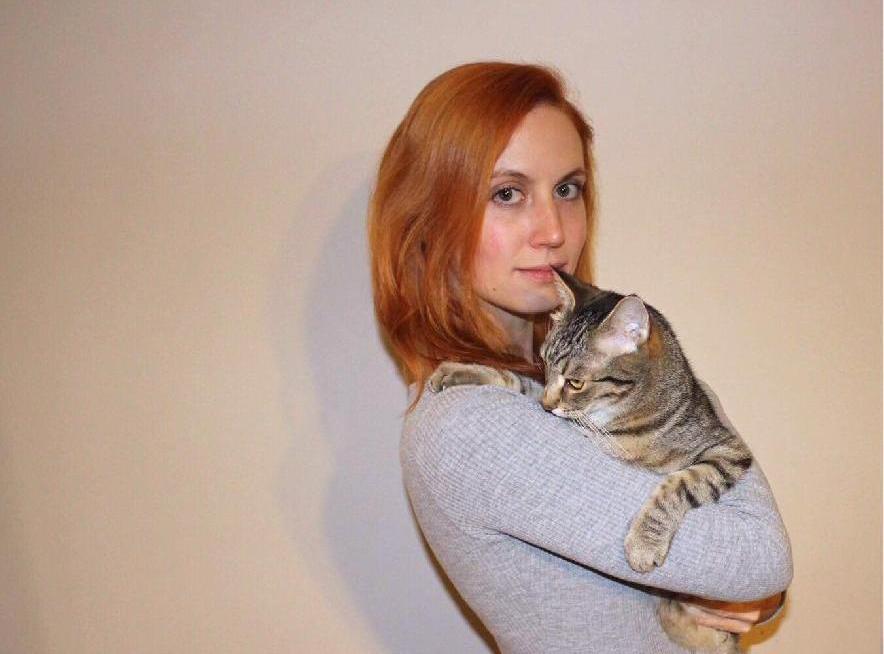 Cat-sitting territory: Prague 2, 3,  5, Modřany, Barrandov and surroundings

Katerina or Katka loves animals from her childhood. When she was young she had many tipes of rodents – hamsters, mouses or parrots. And after many years later she got finally also two desired cats. Katka started to dedicate to pets more profounldy after getting these cats, she was educating her self more about castration of cats and she also buy only cosmetics that was not tested on animals. Her dream is to extense her cat "family" with many other members. In her free time she dedicates to game streaming and healthy lifestlye.
Katerina´s cats: Hennessy (on the picture) a Baileys
Liliana – catsitter and dogsitter

Cat-sitting territory: Prague 6, 7, Dejvice, Suchdol, Horoměřice and surroundings
When she was little, Liliana´s family had a lot of pets like rabbits, hamsters, mouses or turtle. She was always happy to take care of somebody and specially when it came to pet members of the family. Her affection towards cats and her interest in cats started when she found abandoned kitten Niky (on the picture) on Barrandov. She took him immediatelly and started to take care of him. Now she is six year old and she makes all the Liliana´s family happy. Some year later, she got another cat, this time the bengal cat. Lili also take care of abandoned cats around housing estate in Suchdol and she was helping in the cat shelter Felix within her practise at the university.
Lili now studies at Czech University of Life Sciences in Prague in the faculcy of enviromental sciences. In her free time she actively plays floorball. 
Liliana´s cats: Niky and Bači
Lucie – catsitter

Cat-sitting territory: Prague 6, 7, Petřiny, Řepy, Ruzyně, Nebušice, and surroundings
Lucie loves cats. From different reasons she didn´t have always the chance to have a cat home but she was taking care of cat darlings of her friends regularly when they were away. She recently lives with her cat Hubert (on the picture) she found 4 years ago when he was little kitten and now he is the best and loyal pet friend for her. Lucka graduated at Prague conservatory with the subject piano and apart from cat-sitting she also gives private lessons of piano. She teach childrean and adults as well. Apart from this she draws, makes ceramics products and do gardening.
Lucie´s cat: Hubert (on the pisture)
Lolita  – catsitter and dogsitter
Cat-sitting territory: Centre of Prague, Karlín, Prague 8, 9 and surroundings
Lolita or Lola is absolutely crazy for cats and she loves to take care about them. In the past she had a lot of cats and now she has one. Her name is Tera (Pantera), she is completely black and she has beautiful huge eyes. Lola is a student of Faculty of Nuclear Sciences and Physical Engineering in Czech Technical University in Prague where she studies nuclear chemistry. In her free time she reads books, dance, practise yoga or simply wathces any movie. She is also very interested in psychology and sociology. Every day she walks to catch the fresh air and get better mood.

Natálie – cat sitter and dog sitter
Cat-sitting territory:  Prague 10, 11, Šeberov, Kunratice, Háje, Uhříněves, Říčany, Popovičky
Natalie is big pet lover for all her life. She grew up with big and small dogs, cats, fish, turtles and birds. She took every pet as a member of the family what appeared not to be the best idea every time, specially when she took home snails and earthworms. Today she takes care of british shorthair kitty called Minerva and Weimaraner dog Indy and also ancistrus called Fridolin. Her dream is to have a lot of sheeps, dogs and cats. Natalie studies two universities recently – social antropology and media studies at Charles University.
In her free time she likes to read in comfy armchair with a cat in her lap.
Natalia´s pets: cat Minerva and dog Indy
---
 CAT-SITTERS IN BRNO:
Zuzana – cat-sitter

Cat-sitting territory: Entire Brno and the nearest surroundings
Zuzka has always been a cat lover and she had them since she was little. From her childhood she had a kitty called Packa and soon she got her second cat Bertík. Both have been adopted from the cat shelter. Zuzka also had hamsters and rabbits. Now she takes care of two cat darlings Micina and Vašík. They are a mom with her son and both are from the cat shelter as well. Now they are inseparable.
Zuzka now studies on faculcy of mechanical engineering. Her hobbies are sports and cooking. She spends her free time with her friends most of the time. 
Zuzka's  cat: Vašík (on the picture)
Klára – cat.sitter

Cat-sitting territory: Entire Brno and the nearest surroundings 
Klára always wanted to own a cat, but as she was living in a small flat when she was little, she had to be happy with small fish'es company in the aquarium. Whe she was, she moved out with her parents to the house with a garden and soon she got her firts cat boy called Bertík. At the moment, Klara owns two cats – youngest and wildest one called Sushi and elder lady Mína. Apart from cats, Klara owns also a rabbit calles Rozinka and she has also new pet – gecko Alfred.
She studies furniture design on Mendel's unniversity in Brno. In her free time, Klara liked to cook, do sporst and meet friends.
Klára's cats: Sušenka (Suši) a Mína (on the picture)
Tereza 

– cat-sitter

Cat-sitting territory: Entire Brno and the nearest surroundings
Tereza was always interested in animals. As she was young she had hamsters and guineapig, later on she got a dog and when she moved outwith her family to a family house Tereza also brought a cat home. Unfortunatelly, she had to leave the cat home when she moved to Brno for studies, becasue the cat was used to stay outside during all year. But Tereza wasnt alone for long time and she got a ferret called Remy. At the end, she also got a cat too called Albus, that is on the picture. At the moment Tereza has two dogs at her parent´s house and in her own flat in Brno she has, apart form a husband, cat and the ferret. It´s not strange that Tereza studies zoology at the University of Mendel in the faculcy of life sciences. Apart from animals, Tereza also likes to dedicate to nature in general. She spent her time with friends and visits culture events like theatre, cinemas or concerts.
Tereza's cat: Amidala and Albus (on the picture)

Veronika – cat-sitter
Cat-sitting territory: Entire Brno and the nearest surroundings
Veronika is besieged by cats for all her life. Even from her childhood she felt in love with cats and their remarkeble characters. Love towards animals led her to veterinary high school where she learnt a lot of interesting things. For now, Veronika studies nuclear biology at Mendel´s University in Brno. Her best hobbies are making pohotos, cooking, playing piano and travelling. She has two cat brothers Charlie and Ronn and she loves them above all.
Veronika´s cats: Charlie (on the picture) and Ronny
---
CAT-SITTERS IN PILSEN:
Barbora Matějovcová – cat-sitter
Cat-sitting territory: Entire Pilsen up to Medový Újezd 
Barbora always have had strong bound to all animals. She had guinea pigs and rabbits when she was young, then dogs and after that she started with terarist pets. But for all the period, her biggest love are cats of course, the ferral ones in the beggining and cats with origin certification afterwards. In 2016 Barbora funded her own cattery called Cranberry, CZ, where she started to dedicate to healthy and tested breeding of british shorthair cats. In the past, Barbora owned very succesfull breading station of guinea pigs called Marsyas that is know in whole world. Barbora is very active admin of facebook page "Cat-mania – celoroční aukce", that has been created for the financial help of abandoned shleter cats. She studies Economy university focused on bussines economy and management. Her hobbies are also travelling and photo making.
Barbora's cats: Oscar (british shorthair), Xirah (british shorthair), Dior (Canadie sphynx) and Flíček (domestic)
---
CAT-SITTER IN KLADNO:
Petra Frýzková – cat-sitter
Cat-sitting territory: Kladno – Kralupy nad Vltavou
Petra herself owns five cats, and dedicates most of her free time to pets. She also offers help to cat and dog shelters on a regular basis. Helping animals, especially those that are abandoned or mistreated, is the most fulfilling thing to her.
Petra finished her study at secondary school that was specialized in Social and Administrative Activity. Recently she works as a part time administrator. Apart from taking care of animals, she mostly enjoys reading, history or travelling.
Petra's cats: Thomas (on the picture), Kačenka, Amálka, Jůlinka and Gábinka.
---
MANAGEMENT
Jana Smrčková – Team Supervisor in Brno 

Jana calls herself "Kočkomilka" (cat lover) and as the nickname suggests, she is maybe the most afficionated cat enthusiasist you could imagine. She has read probably all the publications of the Czech magazine "Naše Kočky" even before she meet HolidayCat.cz and she administrate her own cat and personal blog in her free time: http://catwithoutwork.blog.cz/ She is also a great contributor to our cat news "Kočičí noviny".

Jana studied at University of Veterinary and Pharmaceutical sciences in Brno, but than she changed her school to University of Pedagogy where she studies until now. Jana makes also baby-sitting, teaches mathematics and chemistry and in her free time she sews little thingies for cats.
Jana's cats: Summer and the Lord Darth Vader (on picture)

Anna Císařová – team supervisor and cat-sitter

Cat-sitting territory: Centre of Prague, Prague 4, 10 and surroundings


Anna is a student of Czech University of Life Sciences in Prague and her subject is rehabilitation by animals. In the future she would like to dedicate herself to felinotherapy. From the childhood, she loves cats and recently she has one cat called Minnie, which is her best darling. In the past she used to visit cat shelter in Bohnice as a volunteer and help the abandoned kitties, that weren´t that lucky with happy homes. Anna works for HolidayCat.cz from 2016 and from the winter 2017 she became supervisor of Prague team and cat-sitter´s coordinator. In her free time she likes to read books, spend time with her friends, etc.

Own cat: Minnie (On the picture) and sphynx cat Dory

 

Nikol Šabatová – Director of the agency

Originally from West Bohemia, currently based in Prague, Nikol has been given the nickname "Cat Mom" ever since she was little. Fascinated by their unique character and wonderful grace, she has long built a strong bond with cats throughout the years.

Nikol started offering service as a professional cat-sitter in 2013. Apart from being the managing director of HolidayCat, she also cooperates with the "Czech Union of Cat Breeders in Prague", and co-organizate international cat shows. Her agency has appeared in TV programs, magazines, and social media multiple times. And her blog "CAT NEWS" has also drawn growing attention and is a great resource for cat sitting related articles and videos, the majority of which are authored by Nikol herself.

Nikol's cats: Steve and Xaraina (on picture) – the sacred Birman cat 
---
For ordering cat-sitting click here: